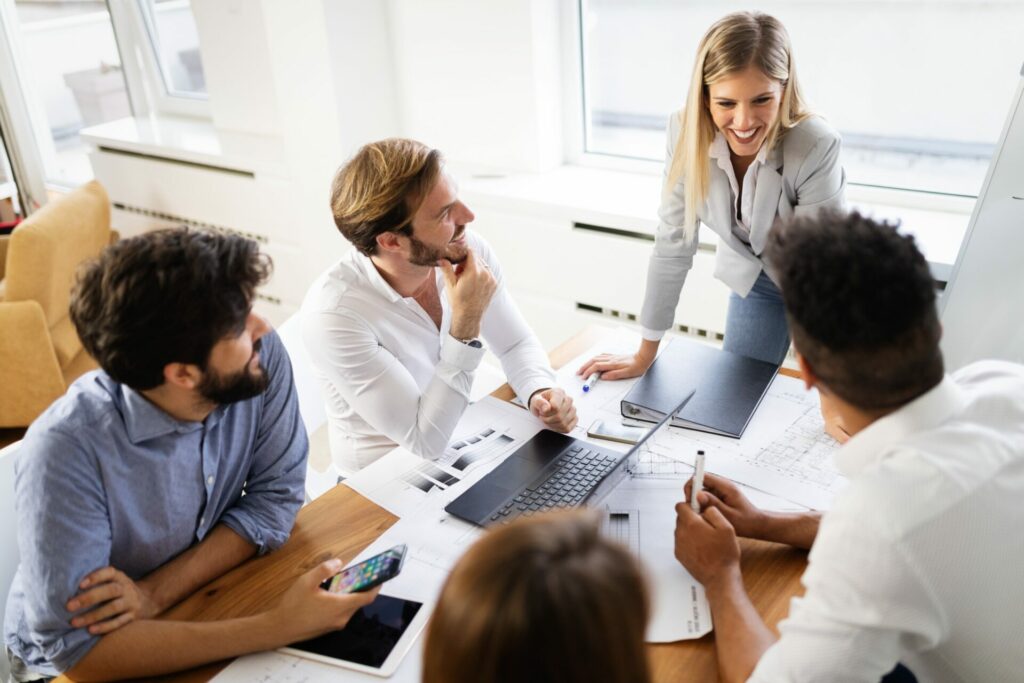 As we start the new year, it is really difficult to know what the rest of 2023 will bring. Many factors changed over the past 12 months. This led economists, financial analysts, and other pundits to completely miss their forecasts. Hidden in all the chaos and uncertainty, however, could be a golden opportunity. Companies can place strategic investments and be well-positioned for future growth. Economic expansion and contraction cycles go up, go down, and then go back up again. Management teams that recognize this pattern can invest today in tech strategies for a superior performance tomorrow.
Baseline Assumptions
The first step in evaluating future strategic investments is to evaluate long-term trends. Which will most likely exist over the next few years? A strategic investment can then take advantage of a future trend. This decision will have a better chance of delivering a positive return on investment.
Here are a couple of long-term business goals that are highly strategic. These are unlikely to change significantly over the next few years:
Improve Business Agility – this can be achieved by automating business processes or adding intelligence to data collection processes. Other options include improving systems and employee collaboration or reducing manual processes so businesses can respond faster to change.
Overcome Labor Constraints – an imbalance exists between skilled, experienced, and highly sought-after workers and the companies with job openings. Firms seek talent to replace an aging and retiring workforce. This challenge has created even greater pressure to attract and retain quality talent in industries with future expected growth.
Capture More Data – gaining access to data that is clean, accurate, and timely is changing how companies operate. Collectively referred to as digital transformation, this shift starts with unlocking data. This information is often trapped in silos within IT systems or isolated hardware. New business processes that ease access to more digital data empower organizations to act with greater responsiveness and performance.
Take a Long Term Perspective
If your real estate or title business has strategic initiatives in alignment with some or all of the above trends, then a long-term reward could easily justify a short-term investment. Here is where a key divergence often occurs. Organizations unable to devote funds for new investments today must wait until the market changes to reconsider. Those that act now will be well positioned to take advantage of benefits as the market recovers, which can then have a multiplier effect on the ROI to create a significant competitive advantage over the longer term.
Here are a few tech strategies that can be applied to each of the above long-term trends to deliver positive business value in the next 6-12 months.
Tech Strategies to Improve Business Agility
A great way to start thinking about this strategy is to look at your business workflows and the underlying IT systems that enable these processes to operate. Challenge collaboration approaches and how business processes could be done differently to be faster, simpler, or more agile. Identify a partner or third-party expert that can work with you to present new options adopted by other organizations for a fresh perspective or different alternative.
Sanil Solanki and Alexander Bant of Gartner suggest using a shared IT framework to evaluate cost initiatives. This approach ensures that resources are traded and cut for the greater good of the business — in this case, to capture efficiencies while preserving funding for critical digital initiatives (source).
Several tech strategies can enable greater automation to not only reduce resource requirements for standardized business processes but can also offer customers a superior experience. Combine these possibilities with intelligent processes to provide data with context – business intelligence – to create a very high-performance business environment.
Tech Strategies to Overcome Labor Constraints
A gap has emerged between the demand and supply of staffing. This situation extends up the corporate ladder and is not expected to change anytime soon. Further, according to the US Bureau of Statistics, labor force participation is expected to decline over the next few decades. See the chart below (source).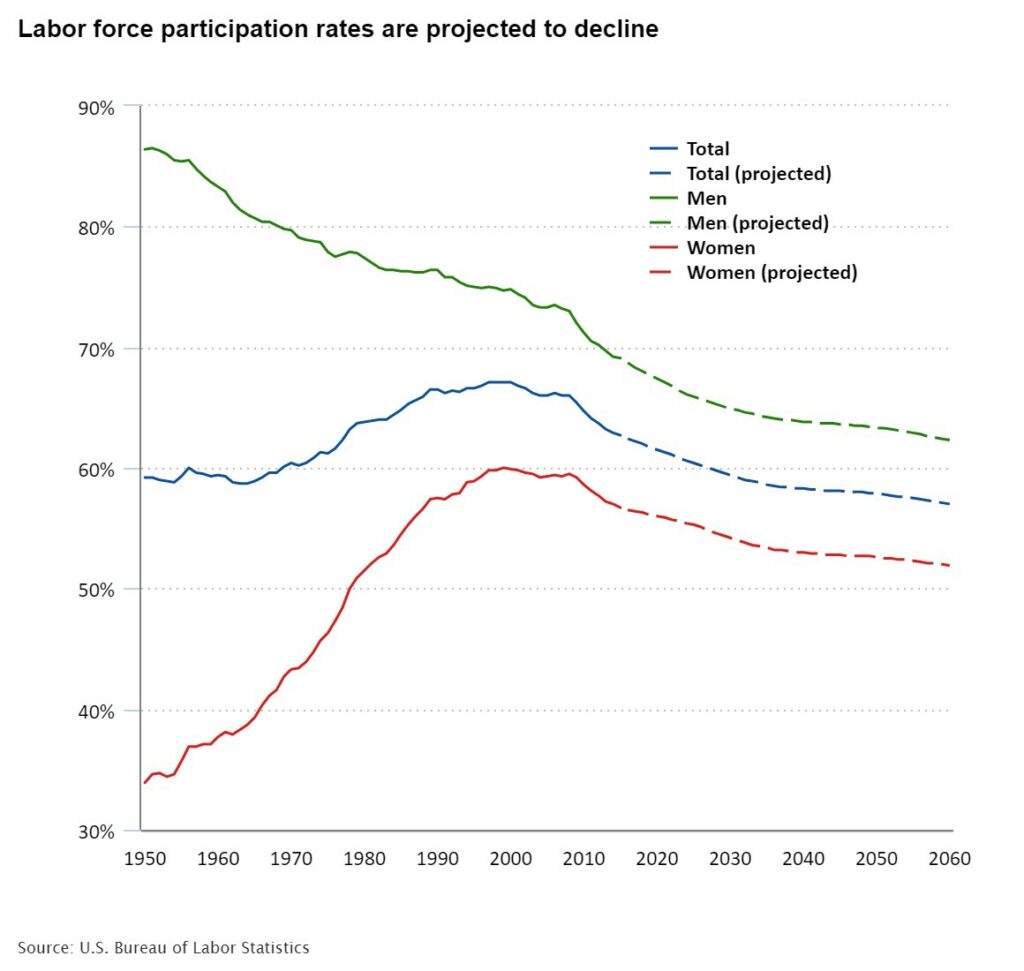 Now is the time to consider how to be more attractive for new hires and existing staff. Invest in new programs to improve the employee experience. One example that has gained popularity is offering flexible work shifts or locations. Implementing skills training and growth programs to provide greater career opportunities is another example. Recent staffing reductions at big tech firms could offer great opportunities to hire high-quality talent. These employees could make a big impact on your future economic performance.
Intelligent process automation initiatives are another way to address the current labor shortage by improving the performance of existing staff. These types of investments can make a significant impact on employee productivity while reducing time-consuming manual processes and the accompanying errors from manual processes.
Tech Strategies to Capture More Data
The digital transformation that has impacted virtually every industry continues to attract significant investment. This suggests there is a real economic value being generated. One of the core value propositions behind digital transformation is the collection, processing, and understanding of data. Investing in new IT systems, document management, or data extraction processes can help improve business productivity while increasing employee productivity.
The industry is only moving away from paper-based, manual processes. Real Estate and Title Insurance buyers experience greater satisfaction when completing transactions faster, with less effort. These types of systems and services can scale with greater ease and agility, adding further value to all stakeholders.
Read more here: A Business Case for Smart Data Extraction.
Gartner suggests that to build a clear digital roadmap today, you need a hypothesis of what your customer will need in 2-4 years. Once you have that, prepare to leverage emerging technologies to meet known and projected customer needs (source).
This recommendation applies equally to employee and IT requirements. By taking a long-term perspective on future business needs and economic conditions, it is possible to be better prepared for future growth opportunities. The first step is to put forward a plan. Interested to learn more? The team at Axis Technical Group can provide you with a perspective of what is possible and how to get started.