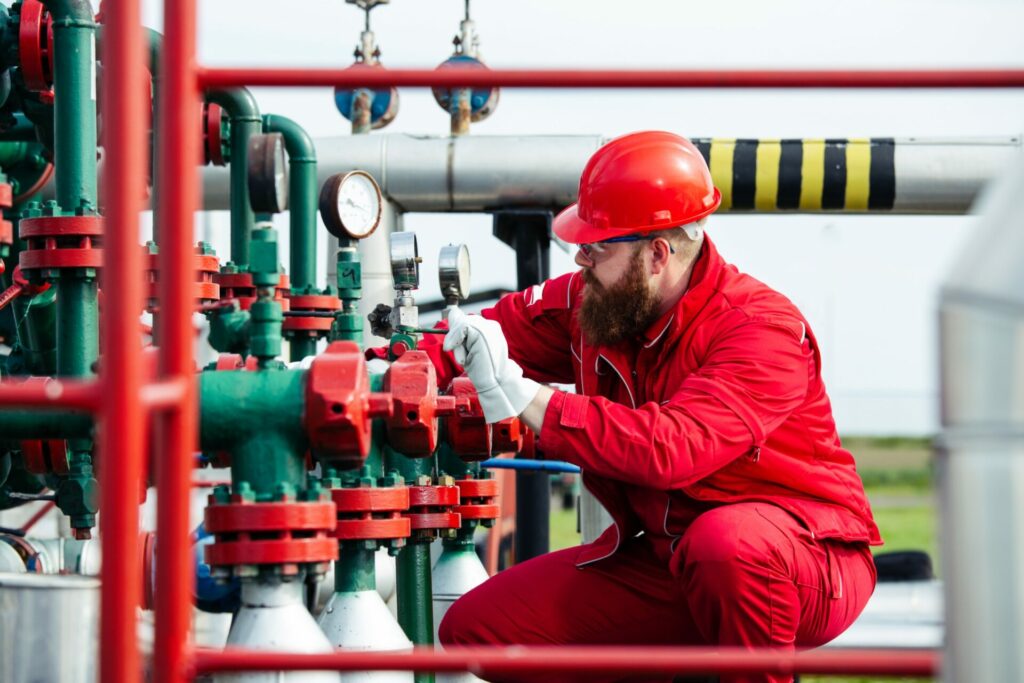 Every industry has experienced disruption over the past couple of years during COVID. In April 2020, during the first wave of the global pandemic, the spot price for a barrel of oil on major exchanges fell below $25. Two years later it was above $100, driven higher by surging demand, geopolitical volatility, and supply chain disruptions (source). Extreme volatility is now driving the pursuit of new digital strategies including a boost in AI investment by Oil & Gas companies. This decision is now impacting all facets of the industry.
The Perfect Storm of Volatility
In some respects, the Oil & Gas industry has been one of the most impacted industries over the past 24 months. Not only has the price of a barrel of oil gyrated to extreme highs and lows, but major geo-political and supply chain disruptions have put new challenges for companies operating in this industry. Further, global staffing shortages have been exasperated due to a negative perception of the industry. According to one statistic, 43 percent of current energy workers could leave the industry within the next five years (source).
"In my nearly 30 years of looking at oil markets, I can't think of a time when geopolitically there was as much uncertainty over potential high and low points in terms of prices, supply and demand."

Raad Alkadiri, Managing Director, Energy, Climate & Resources, Eurasia Group (source)
The world will never be the same – nor will the Oil & Gas industry. The need to invest in new digital infrastructures has never been greater. These organizations must improve operational resilience by investing in new business strategies and digital technologies that enable highly agile decision-making. This means building a digital enterprise that can take better advantage of a data-driven decision support systems infrastructure.
Digital Investment Scorecard
McKinsey research shows that, while almost every Oil & Gas company has been running digitization projects across various parts of its operations, 70 percent have not moved beyond the pilot phase (source). McKinsey suggests three cultural and organizational barriers have prevented these projects from moving forward:
The technologies and use cases don't always generate clear value.
Even if managers are enthusiastic about digitization, that doesn't mean that employees will be.
Many companies view digitization as a series of discrete, siloed projects
The volatility experienced during 2022 has presented a new perspective on how to view digital initiatives. These programs must now be implemented. The risk is a continued struggle when responding to extreme volatility. An enterprise approach to digital transformation is the answer. It must be embraced by the entire organization to achieve success. A digital mindset must be applied to every process, starting with the oil exploration and title search process for new land acquisition.
Continuing with the McKinsey findings, companies that have scaled Industry 4.0 (Digital Transformation) programs before COVID-19 found themselves far better positioned to respond to the crisis, as visualized in the chart below (source).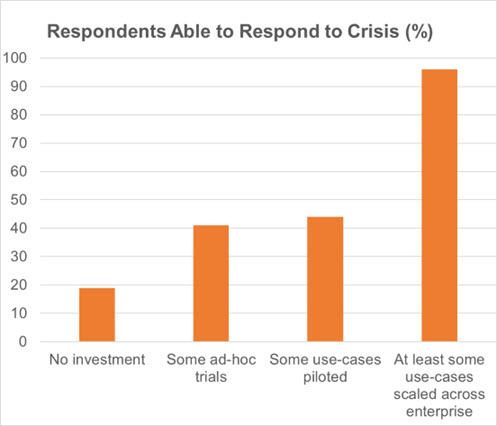 It is now quite clear where the future direction of digital investment needs to occur in the Oil & Gas industry. The challenge is with implementation.
Looking to the Future of AI Investment by Oil & Gas Industry
IDC Research recently published a Worldwide Oil and Gas 2023 Predictions. A summary of their findings can be viewed here. Prediction #1 is that by 2024, 50% of Midstream and Downstream players will have deployed Artificial Intelligence or Machine Learning. This is a very interesting prediction. Suggesting an increase in AI Investment by Oil & Gas companies points to a need that better captures, aggregates, and analyzes operational data. These types of initiatives don't do well in a silo. Organizations must embrace the virtues of becoming a digital enterprise to enable the harnessing of all value this data can generate. And it is increasingly necessary to include this rationale when creating a business case for investment in AI and machine learning technologies.
If this prediction is correct, AI Investment by Oil & Gas companies will greatly impact how future IT investments are made. The focus will be on automating and capturing larger volumes of data, processing it in highly dedicated systems, and then democratizing it across the enterprise. Paper-based processes need to be removed entirely from the organization.
Taking a step back, one way to get started is by looking at the land acquisition process. This process will be heavily impacted by future expected price points and supply components. High levels of volatility will require quick decisions on whether to expand or consider the acquisition of new potential oil fields – or not. Organizations able to respond quickly with better confidence in their decision-making ability will be the winners of tomorrow.