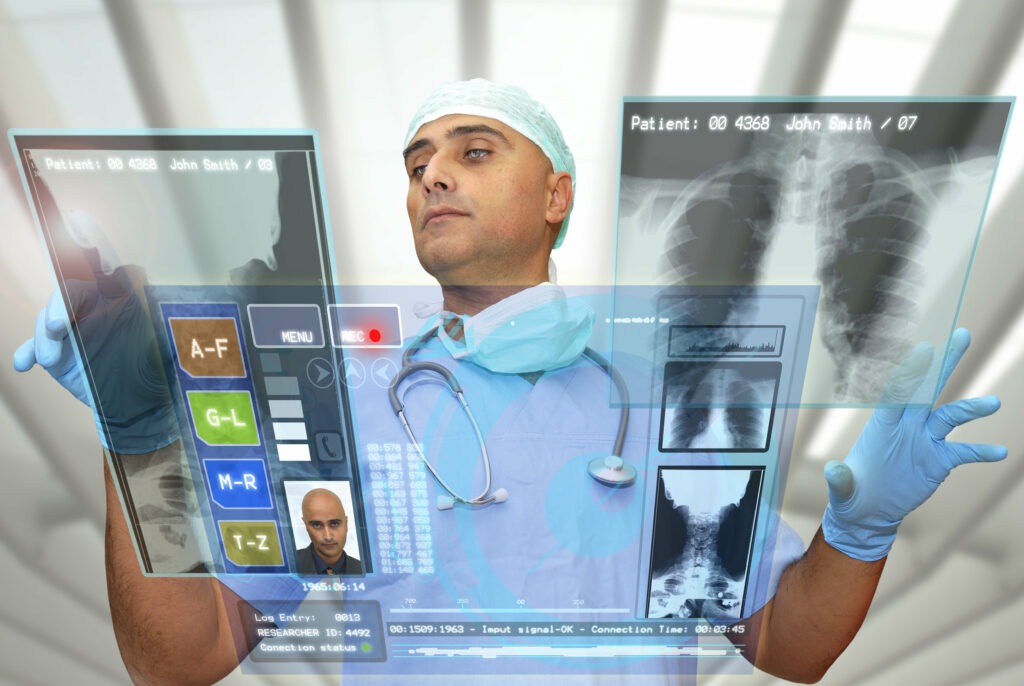 Axis Technical Group has established a strong reputation for delivering Information Technology (IT) Outsourcing solutions for a number of different Healthcare organizations. One of the complexities faced by companies operating in these industries is working with insurance agencies to verify coverage of prospective patients, which may involve estimating out-of-pocket costs associated with each procedure. Often this reconciliation process involves collecting unstructured data, such as information posted on third-party websites, phone calls, or other research to complete the task at the highest level of accuracy and performance. Achieving a staffing productivity increase can help offset this challenge.
Skilled systems integrators and data extraction experts can help overcome these challenges – provided they have industry and systems knowledge to complete this task. An effective Robotic Process Automation (RPA) strategy is emerging as a best-in-class approach to make a big difference in how quickly these types of reconciliations can be performed – unlocking significant performance improvement, business scalability, and patient growth opportunities.
This RPA process automation case study reflects the challenges faced by a large Healthcare Services Organization, hereinafter referred to as "RPA Company," that sought to achieve a staffing productivity increase by improving the accuracy, efficiency, and performance of its insurance verification and new patient onboarding process.
Challenge
Leading healthcare organizations are hyper-focused on improving the health of their patients. Given the high cost of providing these services, insurance agencies play an important role in determining how coverage is calculated and the final cost of services. The process of calculating what different insurance plans cover, by service provided, can be laborious, manual, and time consuming. Insurance providers have multiple levels of patient coverage and can define services differently. Each of these factors contributes to a unique pricing model by patients that must be laboriously determined before services can be initiated.
Once this insurance coverage assessment was completed, the findings of this research must then be securely documented in a patient's file. This information must then be available for reference in the future when performing the final billing and invoice generation process.
Prior to engaging with Axis Technical Group, RPA Company performed this process manually with a staff assigned to "screen scrape" 10-20 different website pages. A screen scrape is a process of taking a picture of a website's contents, including a description of coverage and the details behind each insurance agency's plan information. These image files became an audit trail of how the initial insurance coverage calculation was performed, so became part of each patient's physical or digital file. As "unstructured" data, the potential for achieving a staffing productivity increase was substantial, as part of RPA Company's billing process.
As a healthcare organization, RPA Company is tasked with maintaining the security and integrity of its data repositories. Not only must confidential patient health data be safeguarded according to HIPPA regulations, but billing and insurance data must be correctly captured, managed, and maintained to accurately bill and collect funds as they become due. This includes both digital and physical file records.
Another challenge faced by RPA Company was the number of legacy IT systems and departments required to collect and process insurance data. Having grown by acquisition, the inherited systems and processes prevented a timely performance of this business-critical process. Prior to working with Axis Technical Group, this insurance coverage verification process was performed on 30-40 virtual machines and could take from 25-35 minutes to complete for every new patient.
Evaluation
RPA Company recognized that this insurance verification process was an ideal candidate for process automation. And, given the combination of data extraction and current manual processes, it soon became clear that a Robotic Process Automation or RPA solution would be their best option to achieve a staffing productivity increase.
Key factors in the vendor selection process were to identify IT systems integrators:
Familiar with the healthcare insurance verification process, and
Experienced in streamlining a data extraction and billing integration process
The final solution had one other requirement – it had to be future-proofed. Given the dynamic nature of insurance industry definitions, coverage, and rate plans, the new solution would need the ability to be modified so that it would stay current as insurance plans and coverage changed. Secure integration must also be maintained during this process, including when new information is collected from the third-party insurance providers, to ensure the entire billing system continues to operate effectively.
Solution
An important realization that occurred during RPA Company's evaluation process is the increasing adoption rates of cloud-based applications, including those hosted by the big three cloud hosting infrastructure providers – Microsoft, Amazon, and Google. New options are now emerging for insurance companies to extract data and assist in the insurance coverage verification process. Secure, online portals can provide direct access to structured data describing insurance plans and coverage. This option offers significant advantages over screen scrapes with unstructured data that was difficult to work with.
Axis Technical Group worked with RPA Company to deliver a modern process automation solution based on RPA technology to substantially streamline the insurance verification process. Not only were the results delivered faster with greater accuracy, but labor resource utilization improved significantly. Staffing productivity increase was a factor of 3x! Beyond performance increases, this new solution can take better advantage of the industry shift towards greater utilization of cloud-hosted applications.
Beyond the benefit of determining insurance coverage faster and with greater accuracy, the customer experience of prospective patients increased. The streamlined process can be done faster than what was expected – delivering positive customer satisfaction and improved brand equity.
Learn more about Axis Technical Group's Intelligent Process Automation service.
Next Steps
RPA Company now has its sights set on how to institute self-checking tools for prospective patients. This capability will provide the ability to self-assess insurance coverage and expected out-of-pocket expenses. By offering this as a resource tool for prospective patients, RPA Company has provided a way to become more appealing to younger prospective patients, setting the stage for continued growth. Other automation projects are also under evaluation. With labor resource availability increasingly constrained, anything that can be done to help avoid repetitive tasks and increase staff performance will result in greater staff retention.